Biography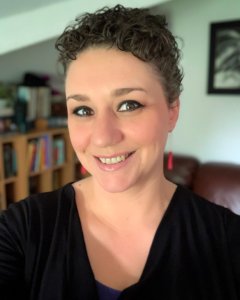 I am a multidisciplinary artist whose practice is made up of photography, illustration, film-making, painting, drawing, music, design, organising exhibitions and workshops. I graduated with a degree in Fine Art from Cardiff in 2002 when I also received The Welsh Assembly Award for Fine Art.
Through my artwork, I aim to highlight aspects and small details of everyday life that often go unnoticed. I have taken part in over one hundred exhibitions in the last fifteen years and have been organising exhibitions at Liverpool's annual Threshold Festival since it's inception. I was also an exhibition organiser with HeadSpace for over ten years.
I am passionate about life, all things creative and about changing things for the better. I strive to bring out the beauty in whatever I create, whilst trying to make people think. I have lived in various places across England, Wales, Italy and America and have moved over thirty times in my life!
Having been around art, design, music and performance all of my life, I was encouraged to question everything from an early age. All of my close family are creative in some way and as a result, I am dynamic, interested, passionate and engaged in what I do.
Interviews
An interview in 2018 about Threshold Festival with Wizz Air as part of a feature in their in-flight magazine!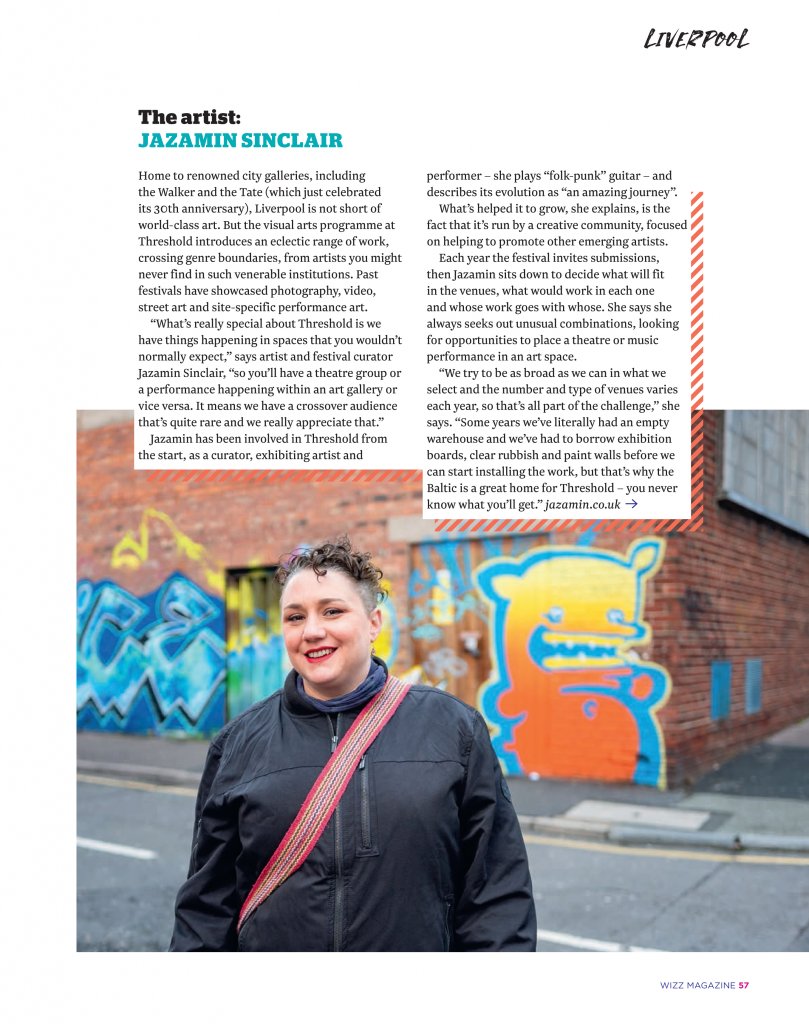 Here is a video of me being interviewed by Made In Liverpool TV [Formerly Bay TV] in September 2015.
Influences
Visual Arts:
Alberto Giacometti, Andy Warhol, Caravaggio, Cate Dingley, Cy Twombly, Edward Hopper, Egon Schiele, Eve Arnold, Gustav Klimt, Henri de Toulouse-Lautrec, Illma Gore, Jenny Saville, John Bratby, Kirsty Mackay, L.S. Lowry, Leonard Freed, Lucian Freud, Luck and Flaw [Roger Law & Peter Fluck], Maria Svarbova, Martin Parr, Meredith Kohut, Patrick Heron, Paula Rego, Piet Mondrian, Quentin Blake and Tim Hetherington.
Comedy/TV/Film:
Adrian Edmondson, Alan Yang, Alexei Sayle, Amy Lamé, Andi Osho, Bill Bailey, Billy Connolly, Dawn French, Dylan Moran, Eddie Izzard, Frankie Boyle, Joanna Lumley, Julian Clary, Kevin Bridges, Nina Wadia, Noel Fielding, Quentin Tarantino, Rhod Gilbert, Richard Pryor, Rob Brydon, Robert Webb, Russell Brand, Sanjeev Bhaskar, Sarah Silverman, Sara Pascoe, Shappi Khorsandi, Steve Coogan, Sue Perkins, and Victoria Wood.
Music/Poetry/Spoken Word:
Akala, Amy Winehouse, Ani DiFranco, Annie Lennox, Beth Orton, Billie Holiday, Billy Bragg, Blur, Bobby McFerrin, Bob Dylan, Bob Marley, Bronkski Beat, Catatonia, Erykah Badu, Eurythmics, Foo Fighters, Iggy Pop, John Martyn, Joni Mitchell, Kate Tempest, KT Tunstall, La Roux, Leonard Cohen, Loyle Carner, Nina Simone, Nirvana, Patrick Wolf, Placebo, Pulp, Rage Against The Machine, Ramiccia, Rancid, Pink Floyd, Scientist, Scissor Sisters, Sheryl Crowe, SK Shlomo, Skin, Skunk Anansie, Soul II Soul, System Of A Down, The Beautiful South, The Communards, The Cranberries, The Cure, The Levellers, The Prodigy, Timbuck 3, Tom Waits, Tori Amos, Tracey Chapman, and Yazz.
Literature:
Alice Walker, Arthur Miller, Bruce Robinson, George Orwell, Henrik Ibsen, Irvine Welsh, Jeanette Winterson, Maya Angelou, Michael Rosen, Nick Hornby, Roald Dahl, Stella Duffy, Stephen Kelman, Stuart Browne and, Tennessee Williams.