This is to let you know about a few creative things you might want to get involved with this January if you are based in Liverpool or the Northwest. I am either taking part in these things myself or I am involved with organising them!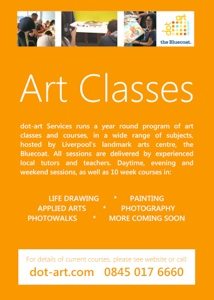 Did you get a new digital camera for Christmas? Have you had a digital camera for ages but you are you still trying to work out how to use it? Do you know your how to adjust your white balance so that your photos don't come out blue? Do you want to know how to take long exposure shots. Do you know how to download your photographs to your computer? Do you know how to take photographs without leaving your camera on the 'auto' setting?
Get to grips with your digital camera this new year with these hands on sessions introducing you to a wide range of knowledge, techniques and tips to improve your photography.
Level One will teach you the basics & we may possibly be providing Level Two (further techniques) in the near future!
Level Once of the course will take place over two evening sessions beginning on Thursday 2nd February at The Bluecoat and will be led by Jackie Stevens & myself from Capture Photographers. This course is has been organised by Dot Art.
Find out more about the course, see some testimonials from previous courses & book a place here!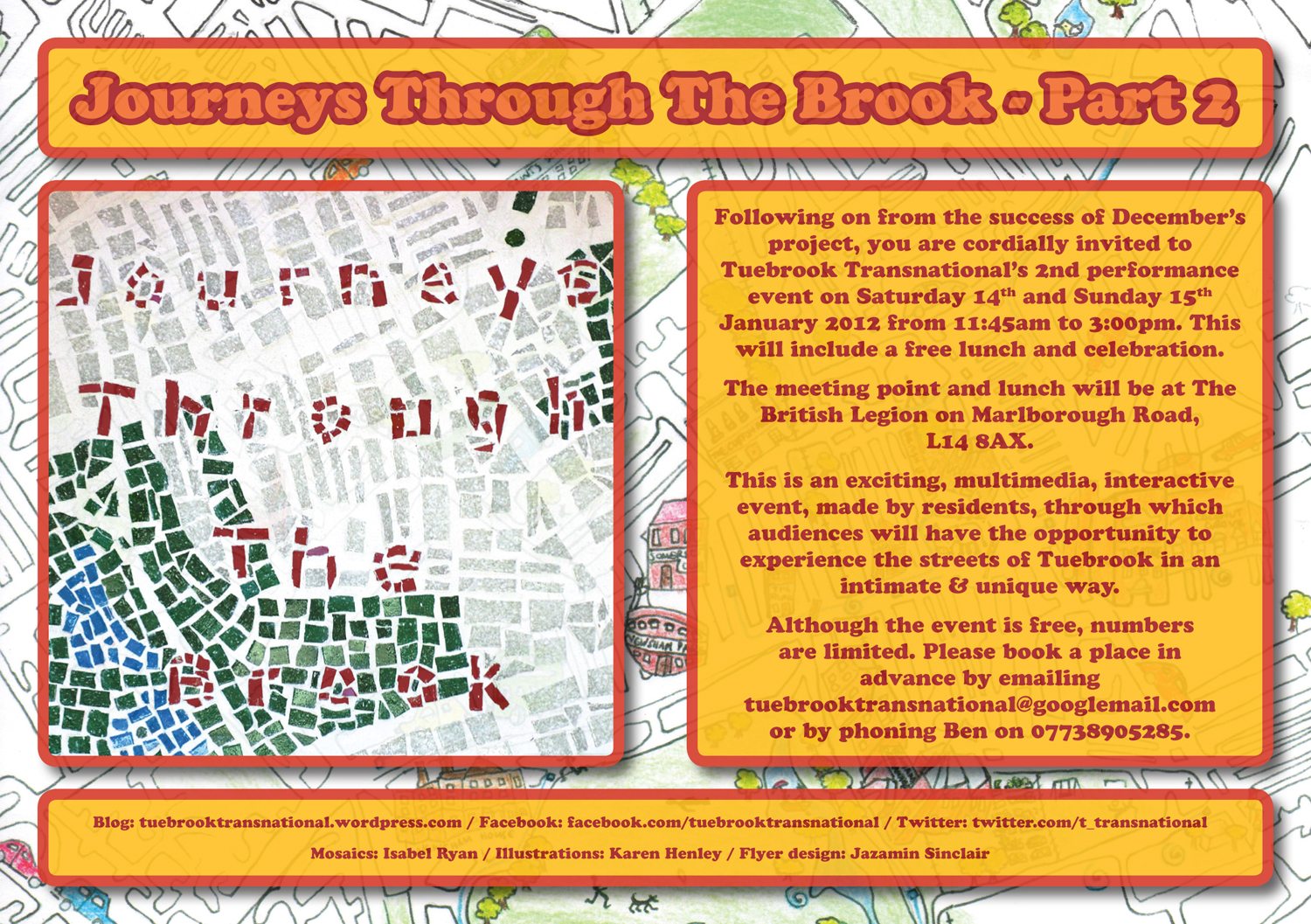 Did you miss Journeys Through The Brook – Part 1 last month? Well don't despair because there's still the opportunity to come along again as it's all returning on Saturday 14th and Sunday 15th January, 2012 between 11:45am-3.00pm!
The whole event is free & even includes a free lunch and celebration afterwards!
People of all ages are welcome to come along to this exciting, multimedia event, through which audiences will have the opportunity to experience the streets of Tuebrook in an intimate and unique way.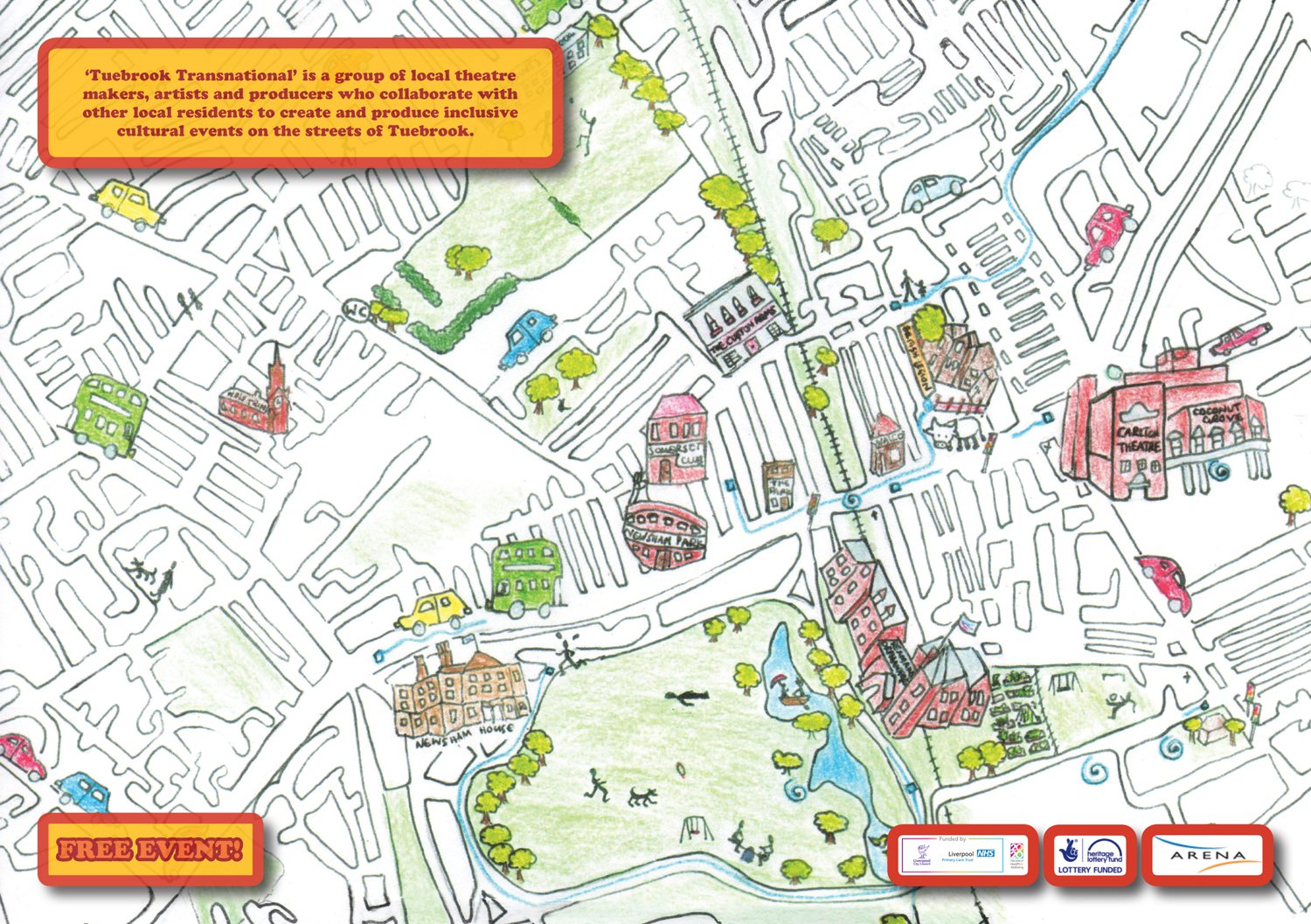 For example, what was shopping like on West Derby Road 60 years ago? Have you ever heard of the Lister Drive Miracle? Would you like to hear what the kids from the youth club think about Tuebrook, or maybe even join the Newsham Park Pirates? If you answered yes to any of those questions then join us all for Journeys Through The Brook which is made by local residents.
'Tuebrook Transnational' is a group of local theatre makers, artists and producers who collaborate with other local residents to create and produce inclusive cultural events on the streets of Tuebrook.
The event is free, but numbers are limited. Please book a place in advance by e-mailing tuebrooktransnational@googlemail.com or by calling Ben Phillips on 07738905285.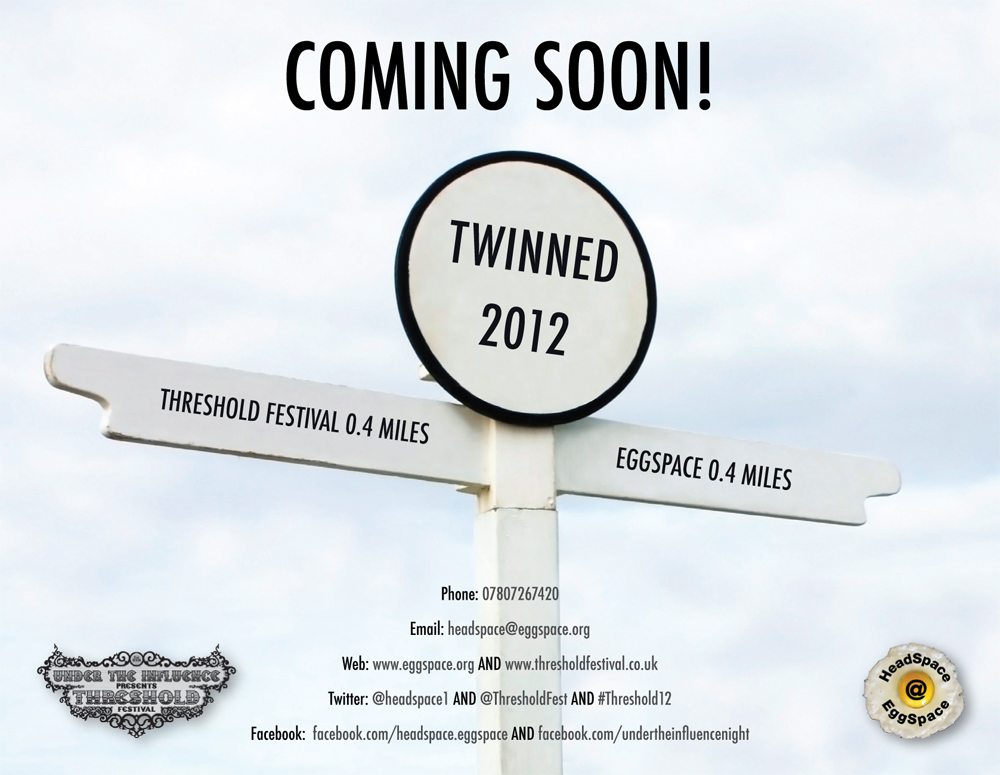 Threshold Festival is returning again in just over a month's time & the big news is that this year it's not just under one roof it's under many roofs all situated in Liverpool's Baltic Triangle! The Festival will all take place from 10th – 12th February 2012 and if last year is anything to go by it promises to be a fantastic event that brings most of Liverpool's creative family together! Last year there was art, comedy, music & performances with something for everyone who came along! You can still buy discounted weekend tickets directly from Threshold Festival but hurry you only have until 10th January! Find out what Visit Liverpool have to say about the festival here.
Once again I am involved in organising visual arts for the festival with HeadSpace@EggSpace. The exhibition we are organising is called Twinned 2012, to be housed across two venues: EggSpace (where we regularly organise the exhibitions) & The Camp & Furnace (formerly A-Foundation) which is part of The Baltic Triangle. The exhibition at EggSpace will run from 27.01.12 – 26.02.12 and the exhibition at The Camp & Furnace will run from 10.02.12 –  13.02.12.
We already have several artists who will be taking part in the exhibition and are inviting others to submit entries to take part! By taking part you will also be entitled to a free ticket for the festival (either a full weekend pass for one or a one day pass with an additional one day pass for a guest)!